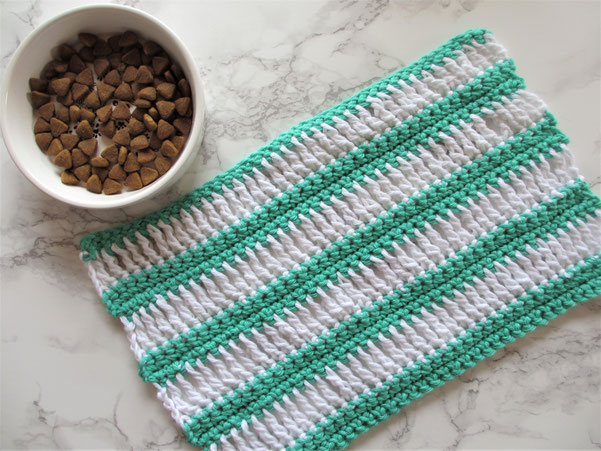 Hallo ihr Lieben!
Ich hoffe ihr habt einen schönen Sonntag und tut das was ich am Liebsten tut. Und falls das Häkeln ist, dann habe ich heute einen neuen Quick Sunday Pattern Artikel für euch :)
Diese Schutzmatte ist in unserem Zuhause für die Katze gedacht, die gerne mal neben ihrer Schüssel frisst oder im Eifer des Gefechts eine Fliege zu jagen ihre Wasserschüssel umschüttet. Natürlich könnt ihr mehrere Matten häkeln und sie für euren Tisch als Untersetzer benutzen. 
Ihr werdet ungefähr 45 Minuten für eure Unterlage brauchen.
Viel Spaß beim Nachhäkeln!
//
Hello lovely people,
I hope your sunday is as happy as you want it to be, and if you want it to be full of crochet I have a new Quick Sunday Pattern for you. It is a protection mat for your little ones ore your pets. Our cat loves to eat beside her bowl so little by little I crochet protection mats whenever I have some downtime and leftover cotton yarn. 
You will need approx. 45 minutes for this protection mat.
Have fun with the pattern!
---
---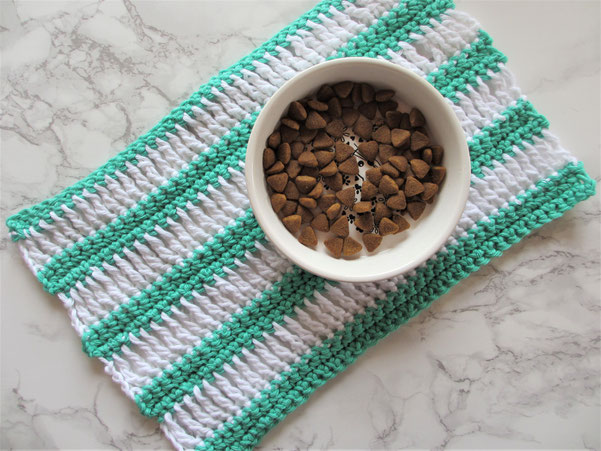 Material
5,5 mm Häkelnadel
Drops Paris oder Wolle deiner Wahl
Abkürzungen
Lfm - Luftmasche
fm - feste Masche
DStb - Doppelstäbchen
M - Masche
Anleitung
1. Reihe
1 fm in 2. Lfm ab Häkelnadel. 1 fm in jede Lfm bis Reihenende. Wenden.
2. Reihe
5 Lfm (= 1 DStb). 1 DStb in jede fm bis Reihenende. Wenden.
3. - 5. Reihe
1 Wende-Lfm. 1 fm in jede M bis Reihenende. Wenden.
2. - 5. Reihe noch 3 Mal wiederholen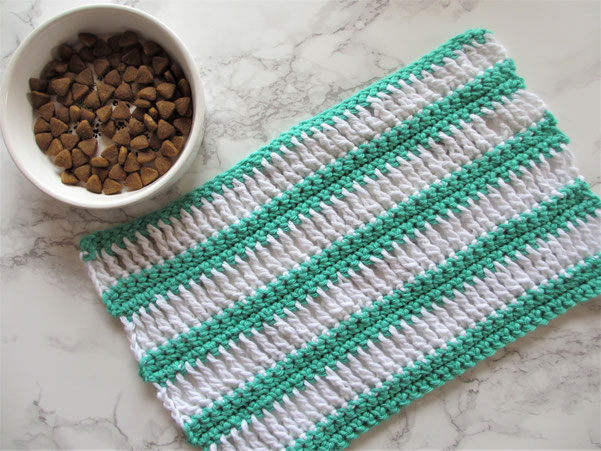 Material
5,5 mm Crochet Hook
Drops Paris or yarn of your choosing
Abbreviations (US Terms)
Ch - Chain
sc - Single crochet
tr - Treble crochet
st - Stitch
Pattern
1. Row
1 sc in 2. ch from hook. 1 sc in every ch. Turn.
2. Row
Ch 5 (= 1 tr). 1 Tr in every st. Turn.
3. - 5. Row
Ch 1. 1 sc in every st. Turn. 
2. - 5. Row repeat 3 times
---