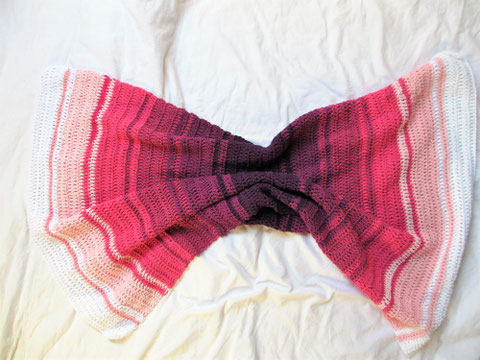 Wenn man an Sommer denkt, dann sicher nicht an Häkeldecken. Doch auch für die heißen Tage kann man eine Decke häkeln, für Picknicks zum Beispiel und für Sommerbabys.
Baumwolle ist dafür perfekt geeignet, ist es doch strapazierfähig und pflegeleicht, doch auch Merinowolle darf man nicht vergessen. Es ist temperaturregulierend und bietet natürlichen UV-Schutz. Egal für welches Material ihr euch entscheidet hier möchte ich euch ein einfaches Tutorial für eine schöne Sommerdecke zeigen. 
If you think of summer you may not really think of crochet blankets. But even for hot summer days you can crochet a blanket, for example for picnics or summer babys.
Cotton is a perfect yarn for those kind of blankets, but even merino wool has perfect qualities: it can regulate temperature and has a natural UV-protection. 
No matter which yarn you choose I want to show you a quick and easy tutorial for a beautiful sommer blanket. 
Happy Stripe Decke // Blanket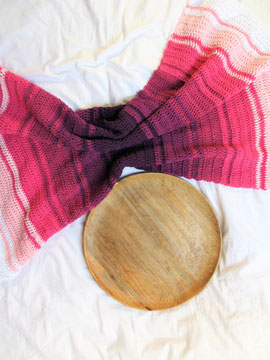 Für all diejenigen, die ein Projekt möchten, dass einfach von der Hand geht oder für all die Häkelanfänger, die gerne ein größeres aber leichtes Projekt in Angriff nehmen möchten ist die Happy Stripe Decke perfekt! 
Folgende Maschen solltet ihr können:
Luftmasche
Stäbchen
For all of you who want a quick project or for you beginners who want to tackle something bigger but easy the Happy Stripe Blanket is perfect!
You should know the following stitches:
Chain
Double Crochet (US Termonologie)
Material
6 Farben in der Wolle eurer Wahl und die dazu passende Häkelnadel. Meine Decke ist ca. 545 gr schwer und 110 x 77 cm groß. 
Meine Auswahl:
5 mm Häkelnadel
Je 2 Knäuel von
Drops Paris 016 Weiß
Drops Paris 057 Zartrosa
Drops Paris 06 Pink
Paintbox Yarn Cotton Aran 644 Himbeere
Drops Loves You #5 117 (leider ausverkauft)
Rico Design Creative Cotton 11 lila
6 colors of yarn of your choosing and the crochet hook suitable for it. My blanket is approx. 545 gr heavy and has a size of 110 x 77 cm.
My choice:
5 mm Hook
2 yarn balls of each of the following colors
drops paris 016 white
drops paris 057 light rose
drops paris 06 pink
paintbox yarn cotton aran 644 raspberry
drops loves you #5 117 (sold out)
rico design creative cotton 11 purple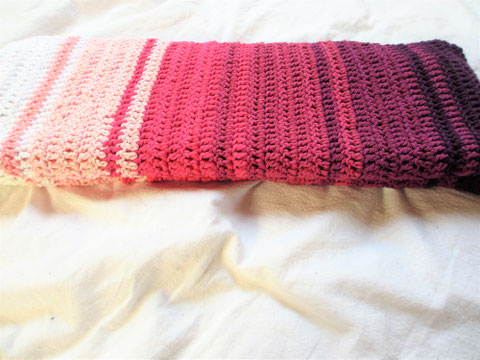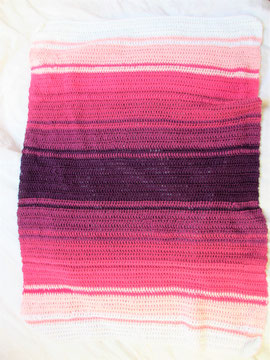 100 Luftmaschen häkeln in Farbe 1
1. Reihe: 1 Stäbchen in die 3. Luftmasche ab Nadel und 1 Stäbchen in alle weiteren Luftmaschen, bis Reihenende. 2 Wende-Luftmaschen. Wenden.
Tipp: Um die Ränder sauber zu halten, häkel ich anstatt 3 nur 2 Wende-Luftmaschen und sehe diese auch nicht als Stäbchen für die weiteren Reihen an. 
2. Reihe: 1 Stb in das erste Stb der vorherigen Reihe. 1 Stb in jedes Stb bis zum Ende der Reihe. 2 Wende-Luftmaschen. Wenden.
3. - 5. Reihe: wie 2. Reihe. Zu Farbe 2 wechseln
6. Reihe: wie 2. Reihe in Farbe 2. Zu Farbe 1 wechseln. 
7. Reihe: in Farbe 1.
8. - 12. Reihe: in Farbe 2.
In diesem Muster weiterarbeiten bis die 6. Farbe erreicht ist. Das heißt die Farben werden in 5 Reihen Blöcken gehäkelt und dann durch die nächste Farbe mit einer Reihe unterbrochen. Ab der 6. Farbe werden die Farben rückwärts gewählt, damit man am Ende bei Farbe 1 angekommen ist. 
Chain 100 in color 1
1. Row: 1 double crochet in the 4. chain from hook and one double crochet in every chain till the end. crochet 2 turning chains. Turn work. 
Tip: To get a smooth edge I only crochet 2 chains as turning chains and don't see them as a double crochet. 
2. Row: 1 double crochet in the first double crochet of the previous row. 1 double crochet in every double crochet till the end of row. 2 Turning chains. Turn work. 
3. - 5. Row: like 2. Row. Change to color 2.
6. Row: like 2. Row in color 2. Change to color 1.
7. Row: color 1.
8. - 12. Row: color 2
I hope you understand the dynamic of the blanket. You crochet 5 Rows, change to the next color, return to the former color, and crochet another 5 Rows in the next color (see pictures for reference). After you crochet the 5 Rows of the last/sixth color you repeat the color change backwards until you end with the first color.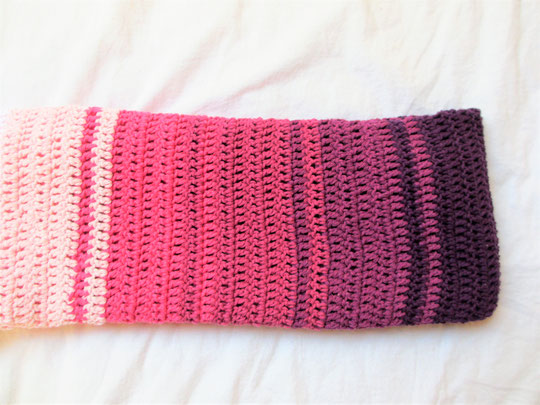 Beachte, dass du je nachdem wie eng oder locker du häkelst, welche Wolle du nutzt oder wie lange du die Fäden zum Vernähen lässt deine Decke größer oder kleiner ausfallen könnte oder du mehr oder weniger Wolle benötigst. 
Es wäre toll, falls du Instagram hast, deine Kreation mit dem Hashtag #happystripedecke zu teilen. 
Please be aware, that the size of the blanket and the amount of yarn you have to use can vary depending on how thight or loose you crochet, or if you use another kind of yarn. 
If you decide to crochet the blanket and have Instagram I would be overjoyed if you would use the hashtag #happystripeblanket
Farb-Inspirationen
Falls ihr ein paar Inspirationen für die Farbauswahl braucht hab ich euch einige Vorschläge vorbereitet. Vielleicht findet ihr ja eure Lieblingsfarben :)
Ich wünsche euch viel Spaß beim Häkeln!
If you need inspiration to choose your color I made some color examples, so maybe you find your favourites :) 
Have fun crocheting!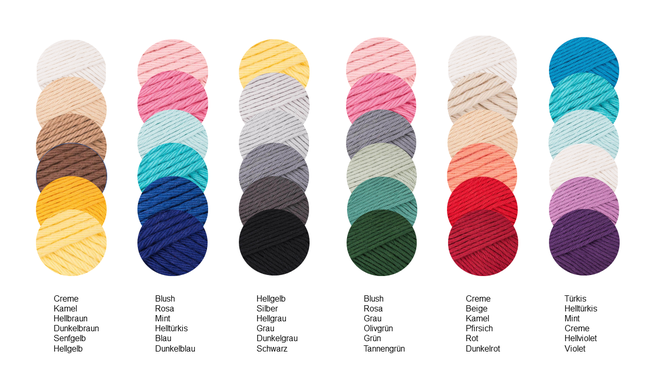 ---