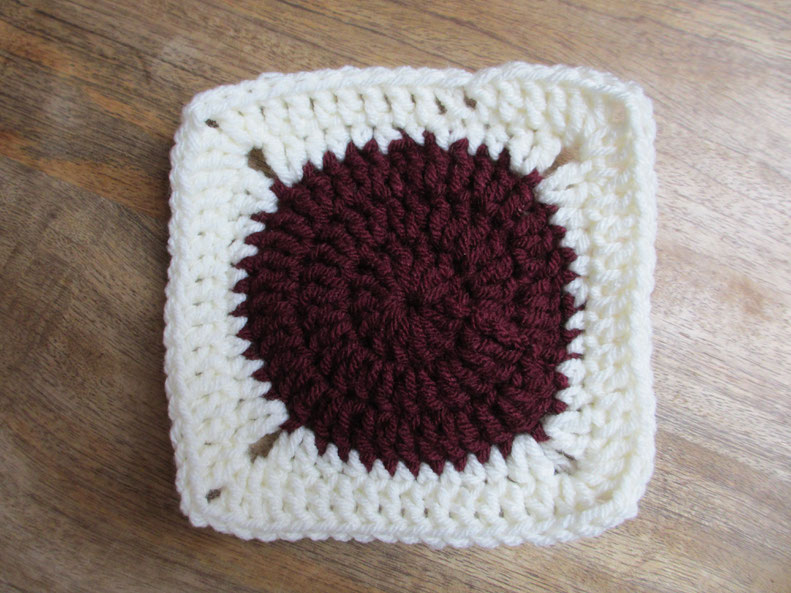 Hallo Ihr Lieben,
heute habe ich einen Tipp für euch, wie ihr eure Quadrate, Kreise und sonstige Häkelprojekte sauber abschließen könnt, ohne dass ein unschöner Hubbel entsteht. Der sauberer Abschluss ist für mich besonders dann wichtig, wenn es darum geht die einzelnen Quadrate miteinander zu verbinden. Es geht einfach leichter wenn jede Seite die gleiche Anzahl an Maschen hat. 
//
Hello,
today I will show you how you can finish off your square or hexagon in a tidy way without a bump being in the way. For me its important, especially, when I want to join the squares later and want the same amount of stitches on each side.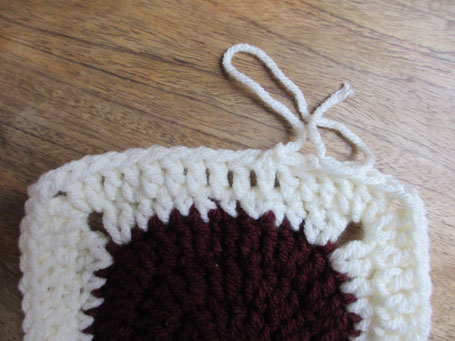 Als erstes beendet ihr euer Motiv. Oft heißt es mit einer Kettmasche in die erste Masche einstechen und dann den Faden durchziehen. Doch so entsteht, wie ihr auf dem Bild seht ein Hubbel, der diese Seite des Motivs unschön abschließt. 
//
If you finish your motif more often than not, the pattern says to join the last stitch with the first stitch via a slip stitch and then pull the string through. This way you have a interfering bumb and we want to prefent that.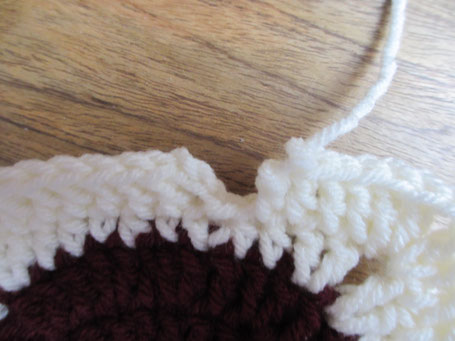 Anstatt einer Kettmasche häkelt ihr die letzte Masche und zieht den Faden durch. 
// 
instead of the slip stitch I mentioned above you crochet your last stitch, cut your yarn and pull it through.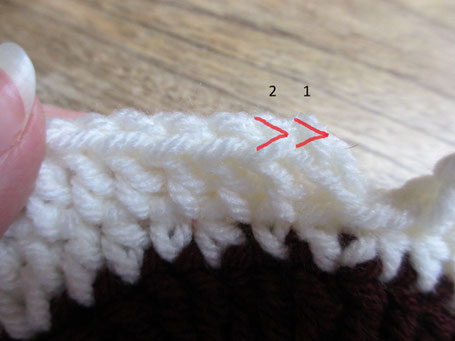 Auf dem Bild seht ihr die ersten zwei Maschen eurer Arbeit. Oft oder meistens ist die erste Masche eine unbestimmte Anzahl an Luftmaschen. Sie zählt vor allem bei Motiven als erste Masche. 
//
On the picture you see the first two stitches of your work. More often than not, especially with motifs like squares and hexagons the first stitch is a number of chains. But it counts as the first stitch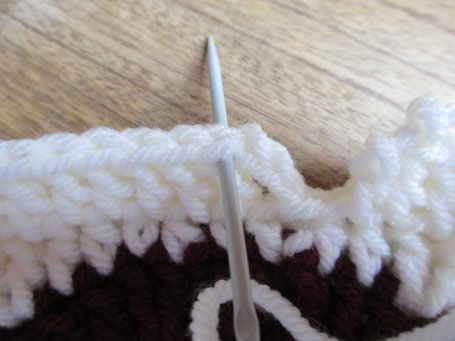 Der Trick hinter diesem sauberen Abschluss ist, dass ihr einen künstlichen Maschenkopf kreiert. Die rechte Seite eurer Arbeit sollte euch zugewandt sein und ihr fädelt den Faden in eine Wollnadel. Dann stecht ihr von vorne nach hinten unter den Maschenkopf der zweiten Masche. 
Würdet ihr in die erste Masche stechen würdet ihr eine zusätzliche Masche erschaffen und hättet eine Seite mit einer Masche mehr. 
So legt ihr den künstlichen Maschenkopf über die erste Masche und behaltet die richtige Anzahl an Maschen.
//
The trick behind the tidy finish is that you create a stitch-head. You thread your string through a wool-needle and with the right side of your work facing you, you put the needle under the head of the second stitch.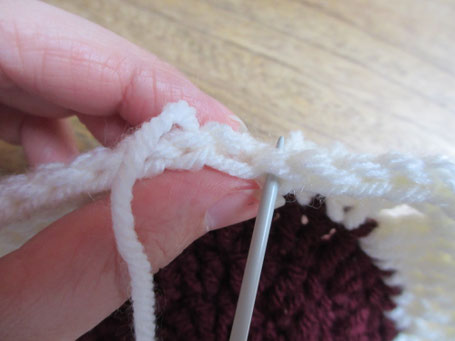 Nun geht ihr zurück zur letzten Masche und führt die Nadel am hinteren Maschenglied von oben nach unten durch. Zieht den Faden fest. 
//
Now you need to go back to the last stitch and put the needle from above through the middle of the stitch-head.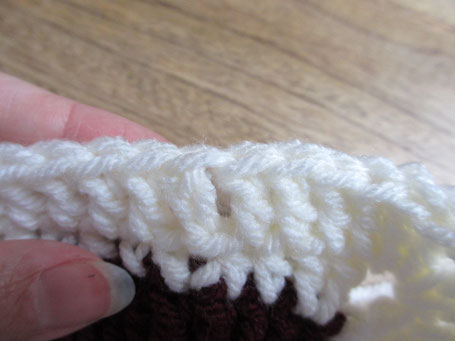 Jetzt hab ihr über die erste Masche einen Kopf kreiert, der eure Arbeit gleichzeitig abschließt und keinen Hubbel hinterlässt. 
//
Now you created another stitch-head over the first stitch and finished your work without an ugly bumb. 
---