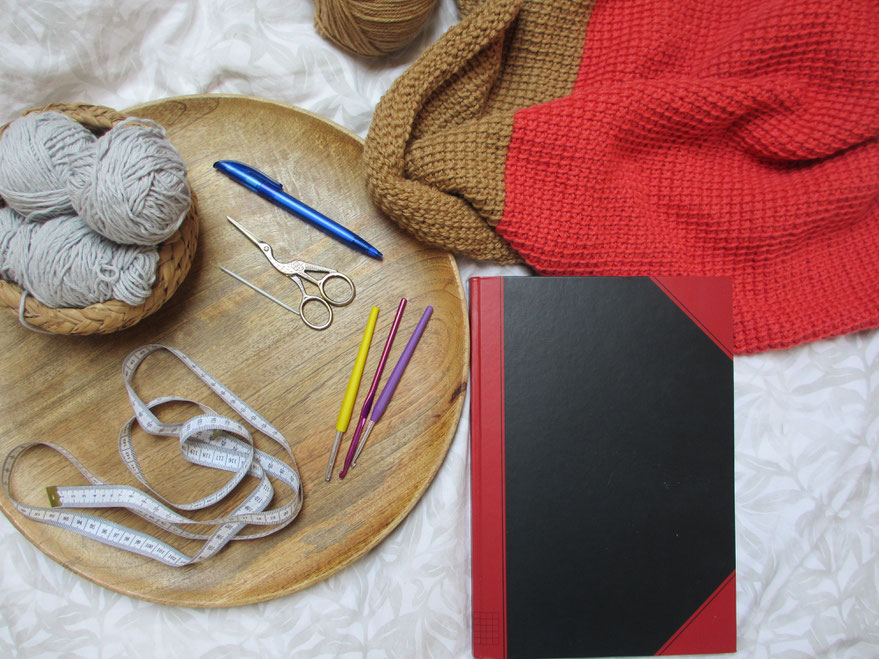 Hallo ihr Lieben!
Heute wollte ich euch ein wenig über die Häkelutensilien erzählen, die ich nicht mehr missen mag und die immer um mich herumliegen, wenn ich häkel. Habt ihr euch auch schon auf solche Basics eingegrooved? 
//
Hello lovelies,
today I wanted to share my crochet essentials. those tools I can no longer live without. I need them near me to crochet peacefully :D
Do you have crochet essentials you need to crochet happily ever after?
Meine absoluten Lieblingsnadel sind Stärke 4,00 - 6,00 mm. Damit häkel ich am Liebsten. Ab und zu schleiche ich mich natürlich mal in die Lace-Häkel-Ecke oder spiele mit Chunky-Garn herum, aber meistens kehre ich immer zu diesen drei Stärken zurück. 
//
My favourite hooks are those in 4.00 mm/5.00 mm and 6.00 mm. With this hook size I crochet the most. Of cource, sometimes I wander away and crochet something lacy or with Chunky-Yarn, but - faithfully - I come back to the medium sizes ;)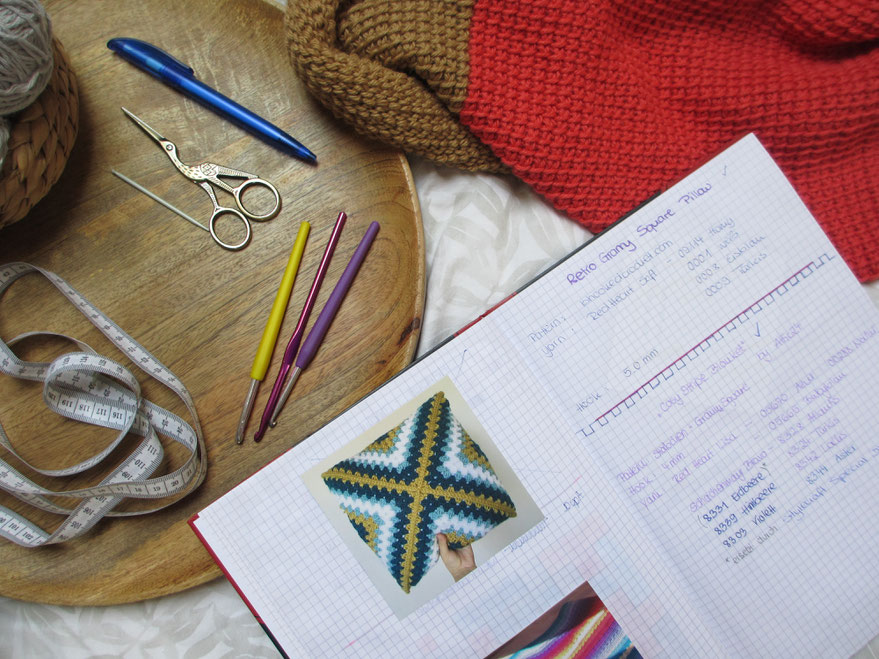 Das aufgeschlagene Buch ist mein Projektbuch, meine Bibel, wenn ich das mal so sagen darf :) Darin sind alle Informationen enthalten, die ich für ein Projekt brauche und glaubt mir, mit den vielen UFOs die ich hier rumliegen habe, kann man schon mal vergessen welche Nadelstärke man benutzt hatte, welche Schattierung von Gelb, Blau oder Grün es wirklich war etc. Das Buch hilft mir natürlich auch beim Anleitungen schreiben. Hier notiere ich meist erst grob wie viele Luftmaschen für die Luftmaschenkette ich angeschlagen habe, wie viele Reihe ich von welcher Farbe häkeln soll etc. 
//
The open book is my project book. Its my bible if you allow me to call it so :D Inside are all the information I need for my projects, be it a piece I crochet from a bought pattern or something I designed myself. 
And I can only guess, but we all have a lot of WIPs laying around and for me its difficult to remember all the details, like hook size, the exact colour shade etc. :D So I need this little book to help me out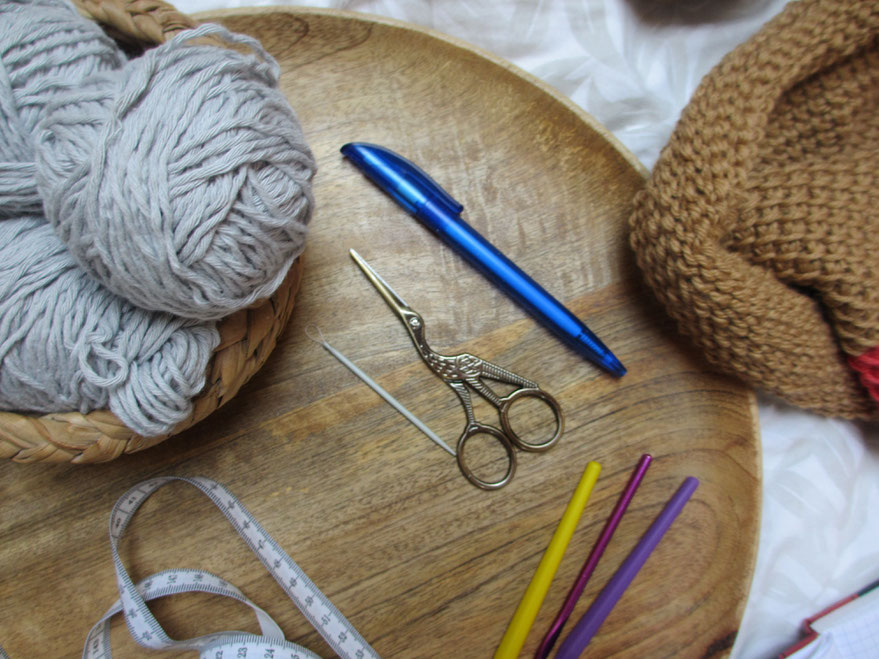 Jeder kennt sie wohl mittlerweile, die Storch/Kranich-Schere von Prym?? Ich hab sie in einem tollen, kleinen Wollladen im Hamburg entdeckt und musste sie natürlich auch sofort mitnehmen. Mit ihr macht Enden vernähen und abschneiden doch ein wenig Spaß ;)
//
Last but not least the scissor we all know and love ;) I bought it in a cute little woolshop in Hamburg and maybe it doenst make sewing in ends easier but it looks way prettier to cut those ends with this cute scissor ;D
---