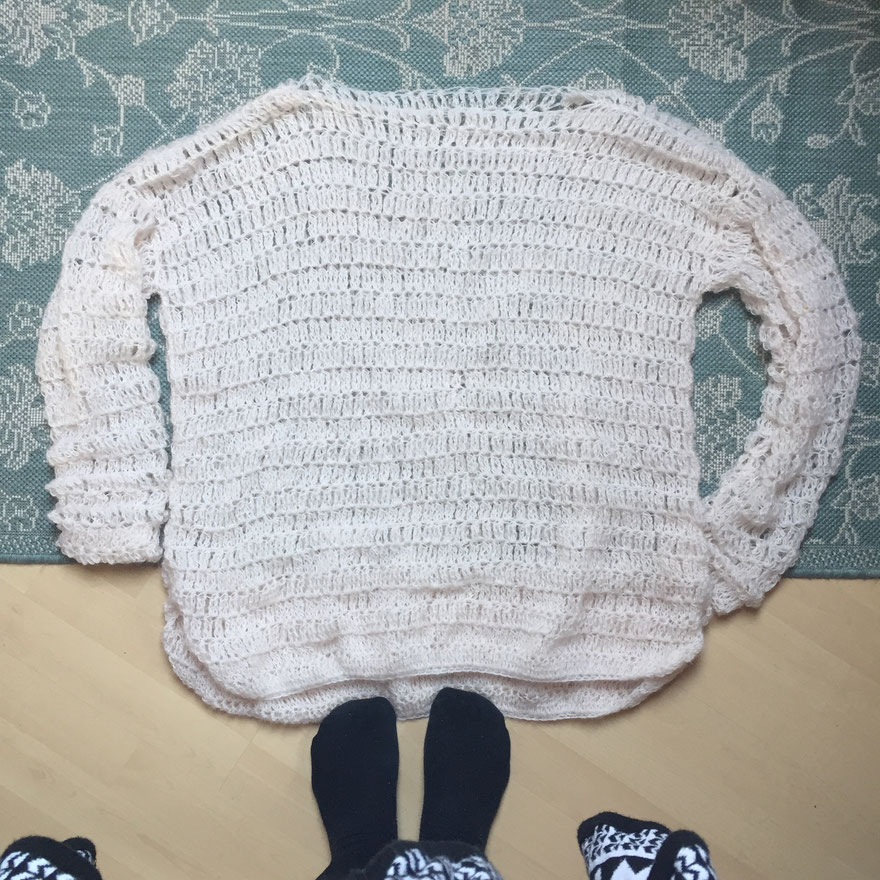 Hallo ihr Lieben!
Ich war in der Vergangenheit ja immer ein wenig neidisch auf all die Stricker, die, scheinbar in Minuten einen Pullover auf ihren Nadel hervorzaubern. Fürs Häkeln schien es lange Zeit nicht möglich, ABER, die Zeit ist jetzt vorbei :) 
In den letzten Wochen habe ich mir allerlei Anleitungen für Pullover angeschaut und - natürlich - auch gekauft, da kann ich mich einfach nicht zurückhalten... 
Da ich lockere, oversized Oberteile sehr gerne mag, war es schnell klar, dass der "White Summer Sweater" von JoyofMotion mein erstes Pullover-Projekt werden sollte. 
Rebellisch wie ich bin, habe ich mich für eine andere Wollart entschieden als in der Anleitung angegeben und endete mit einem over-oversized Pullover, aber für daheim find ich ihn ganz gelungen ;D Was natürlich wieder mal beweist, dass man zuerst auf die Angaben in der Anleitung hören sollte, bevor man sich einbildet die Wolle, die man in seinem Wollhaufen hat "passt sicher schon". 
Alles in allem kann ich die Anleitung von JoyofMotion nur empfehlen. Sie ist ausführlich, erklärt die Maschenarten, die man für das Projekt braucht und liefert auch noch eine Häkelschrift zu. Dadurch fällt es leichter die englische Anleitung zu verstehen. Ich hätte mir vllt ein paar Bilder gewünscht, was einfach daran liegt, dass ich eher ein visueller Mensch bin und wenn ich sehe, wie etwas auszusehen hat, fällt mir die Umsetzung einfach leichter. 
//
Hello lovelies!
I was always a bit jealous of knitterer, who, so it seemed, could whip up a sweater with their needles in no time. It felt, as if it was not possible with a crochet hook BUT no longer my friends, no longer! By now there are so many patterns to choose from and in the last couple of weeks I looked at tons of patterns for sweaters - and yes - bought many ( cannot hold back :D).
I really like casual, over-sized sweaters so it was easy to pick "The White Summer Sweater" from JoyOfMotio for my first attempt to crochet a sweater. 
Rebellious as I am, I decided on a different wool as it was recommended in the pattern and endet with an over-oversized sweater :D But for wearing it at home it is perfect! It is just another proof that you should listen to your pattern instructions and not think: "This wool from my stash will substitue." :D
All in all, I can really recommend the pattern. It is detailed and she explains every stitch you need very well. Because I am a visual person I would have loved to have some pictures, especially on how to sew the parts together, but that is just my personal preference.
Quelle:
The White Summer Sweater - JoyOfMotion
Material:
Schachenmayr exklusiv für Karstadt - Mohair 10470
Alternativen, falls ihr ebenfalls eine Mohair-Wolle benutzen möchtet:
- Woll Butt Primo - Sophie Uni
- Schachenmayr Fashion - Kid Light
- DROPS Kid-Silk
//
Source:
The White Summer Sweater - JoyOfMotion
Material:
Schachenmayr exklusiv für Karstadt - Mohair 10470
Alternatives:
- Woll Butt Primo - Sophie Uni
- Schachenmayr Fashion - Kid Light
- DROPS Kid-Silk