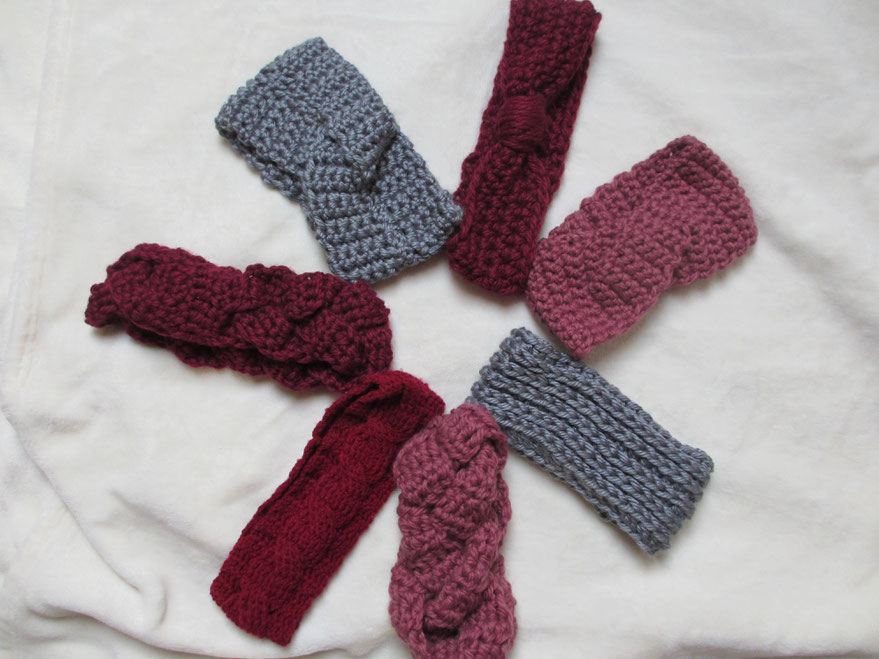 Hallo ihr Lieben,
Frühling und Herbst sind die zwei Jahreszeiten, in denen ich ohne ein Stirnband nicht aus dem Haus gehe. Es ist noch nicht oder nicht mehr so kalt wie im Winter, aber auch der Sommer hat sich bereits verabschiedet oder steht erst in den Startlöchern, weswegen eine dicke Wollmütze zuviel des Guten ist.
Das Stirnband schützt nicht nur unsere Ohren vor einem kalten Wind, sondern ist meist auch noch stylisch und zerstört mühsam zusammengepfriemelte Frisuren nicht.
Es gibt filigrane Stirnbänder, die ladylike daherkommen und welche aus dicker Wolle, die robust und rustikal wirken. Sie können schlicht sein, oder verspielt mit einer Schleife dran, oder mit einem raffinierten Twist die Blicke auf sich lenken. In den letzten Monaten habe ich fleißig einige Designs ausprobiert und könnte keinen Liebling bestimmen, da sie alle zu dem ein oder anderen Zeitpunkt perfekt zu meinem Outfit passen.
Ein weitere Pluspunkt: man braucht nicht zu viel Wolle für ein Stirnband (im Gegensatz zur Mütze) und kann aus seiner Lieblingsfarbe gleich zwei Stirnbänder häkeln, mal im Strickstil oder mit einem Zopfmuster.
Hier einige der Stirnbändern, die ich gehäkelt habe! Welcher ist euer Favorit?
//
Hello lovelies,
spring and autumn are two seasons in which i don't leave the house without a headband. It's not yet cold enough to wear a beanie but summer is over or a bit away, so you need something to cover your cute ears.
In addition it is very stylish and you don't destroy your hairdo :)
There are delicate headbands, which are very ladylike or some made with a chunky yarn, which are rustic and robust. They can be simple or playful with a ribbon, or with a clever twist which will draw attention.
In the last months i crocheted a lot of headbands in a variety of designs and couldn't decide on a favorite.
Another plus is: you don't need as much yarn as for a beanie, so you can do more patterns with your favourite colour.
Below i show you some headbands i did, could you pick a favourite?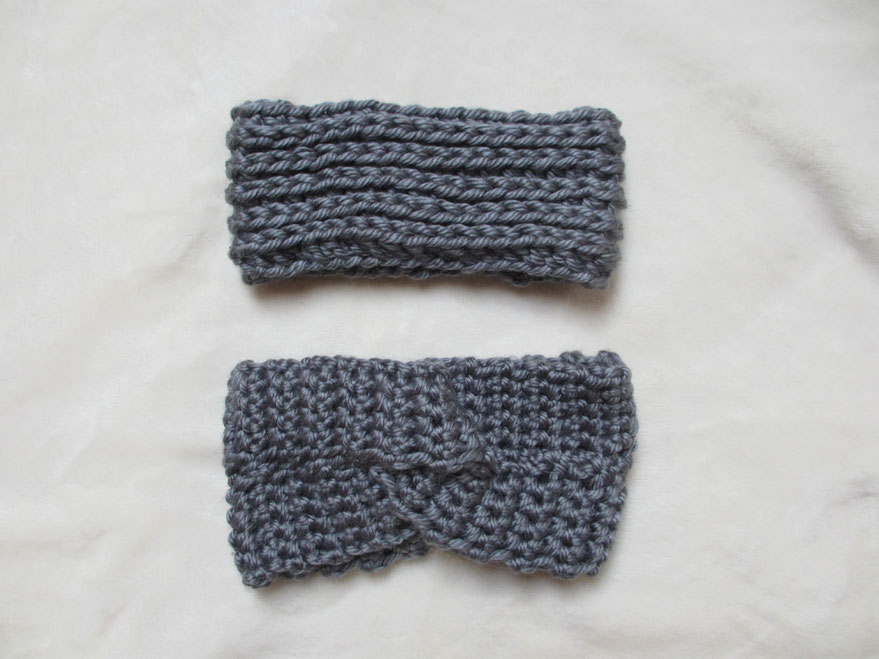 Einmal in Strickoptik und im Turban-Style   //  Knit-Look and Turban-Style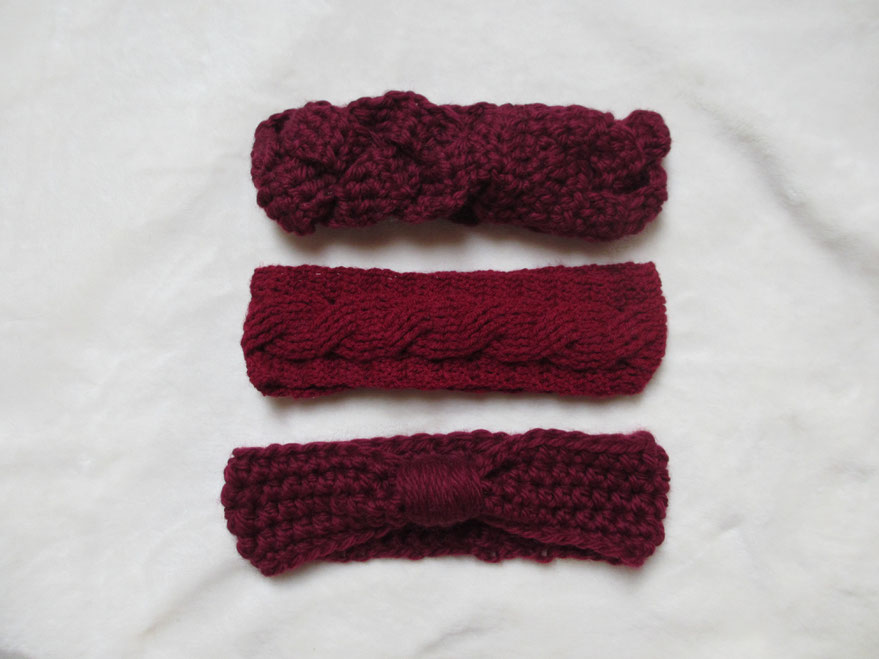 Geflochten, mit Zopfmuster und einem Knoten in der Mitte   //   Braided, a cable-pattern and with a knot in the middle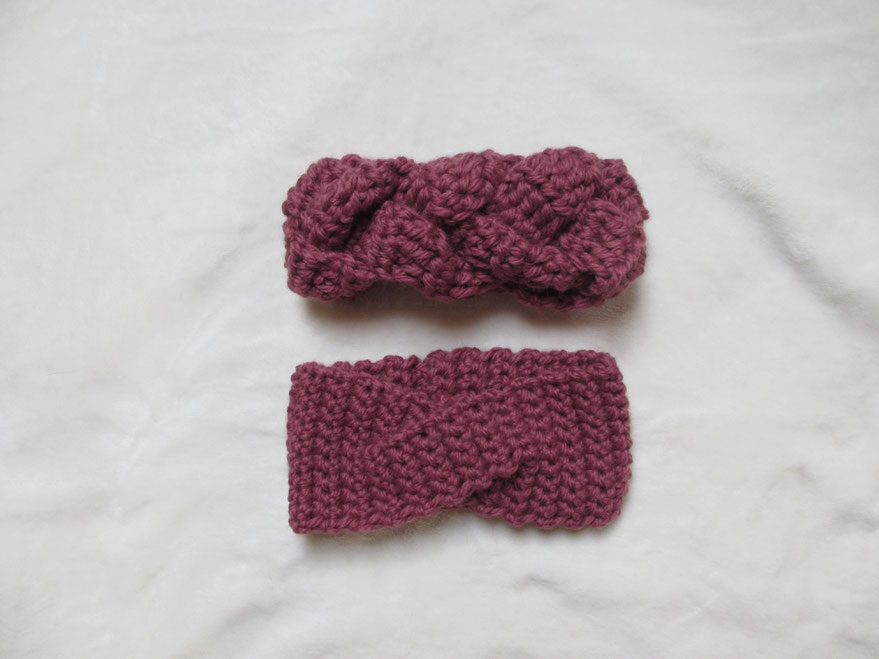 Noch einmal ein geflochtenes Stirnband und eines mit einem Twist   ///   Another braided one and one with a Twist
Wie steht ihr zu Stirnbändern? Habt ihr euch eine Sammlung, wie ich oder mögt ihr Mützen mehr?
//
What do you think about headbands? You like them as much as I do or do you like hats more?