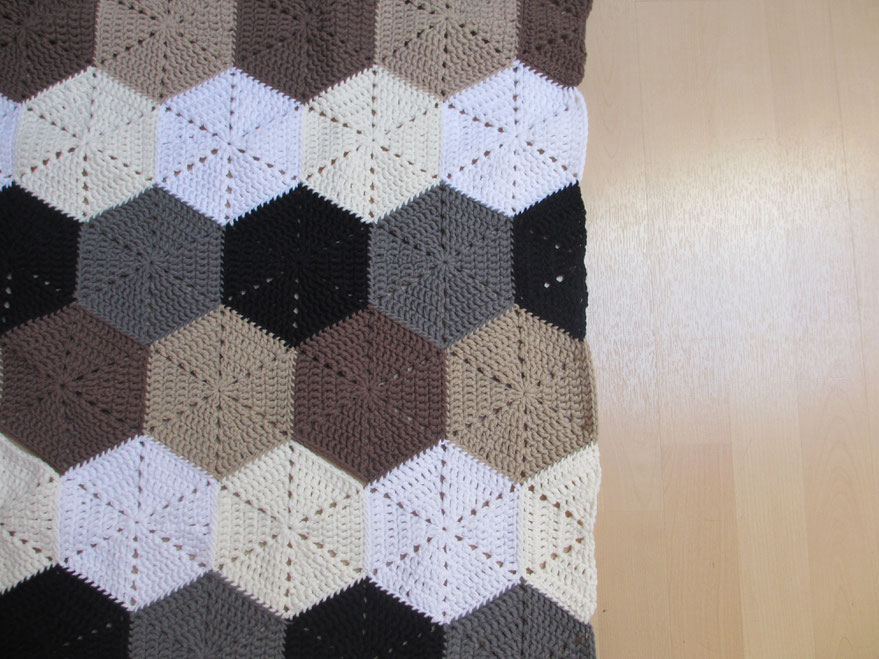 Es gibt ein neues Tutorial! Zu meiner Anleitung des einfachen Sechsecks gibt es nun auch das zugehörige halbe Sechseck. Für die, die einen glatten Abschluss für ihr Projekt möchten, wenn sie mit Sechsecken arbeiten. Ich habe ein wenig herumgepfrimelt, damit das halbe Sechseck passt und ihr könnt es nun hier Schritt für Schritt nachhäkeln. 
Ich arbeite auch gerade an einem Tutorial um die Verbindungs-Methode von halbem Hexagon und Hexagon zu zeigen. Wie ihr auf dem oberen Bild sieht entsteht dadurch kein abstehender Rand oder der Muss einer einheitlichen Verbindungs-Farbe. 
//
New Tutorial! 
For my simple Hexagon pattern you can now crochet a matching half Hexagon. Click >here<
As you see on the picture there is a nice flat joining-method for the Hexagons, which I will show you in a different tutorial. Hexagons for everyone! I just love them!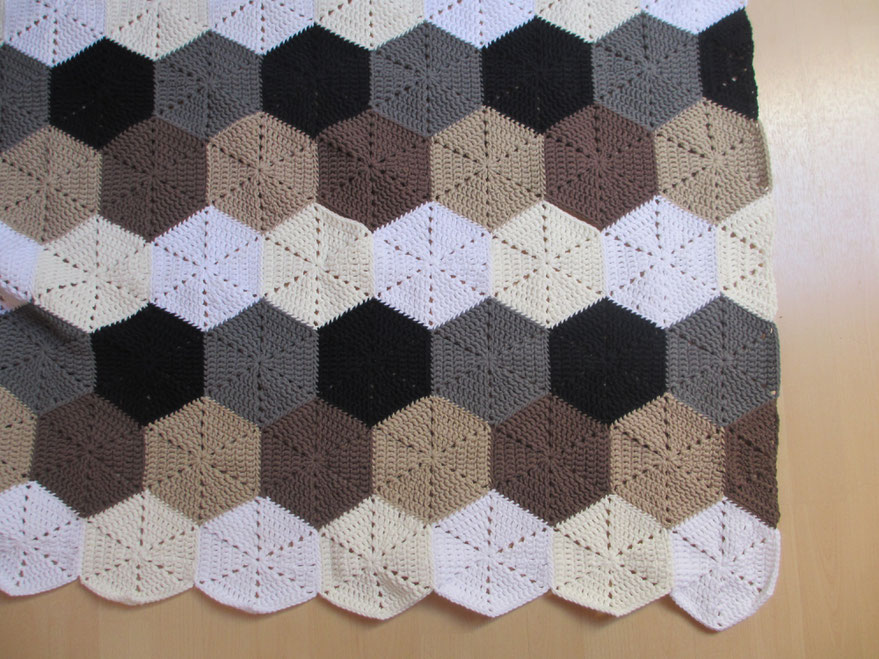 Des Weiteren arbeite ich gerade an einem Design für einen Schal. Der Name ist schon entschieden, sagt Hallo zum 'Natasha-Schal'. Ich versuche gerade noch zu entscheiden welche Länge/Größe ich am Besten finde, sowie Nadelgröße etc. Es wird wohl das erste Projekt werden, dass ich auch als PDF zum Download bereit stellen werde. Seid gespannt! :)
//
In addition to all the Tutorials I work at a design for a cowl. It already has a name: say Hello to the 'Natasha-Cowl'. At the moment I need to decide which length/size works the best, and what yarn and hook I want to recomment. It's going to be the first pattern I will provide as a PDF to download. Exciting! Look out for it!