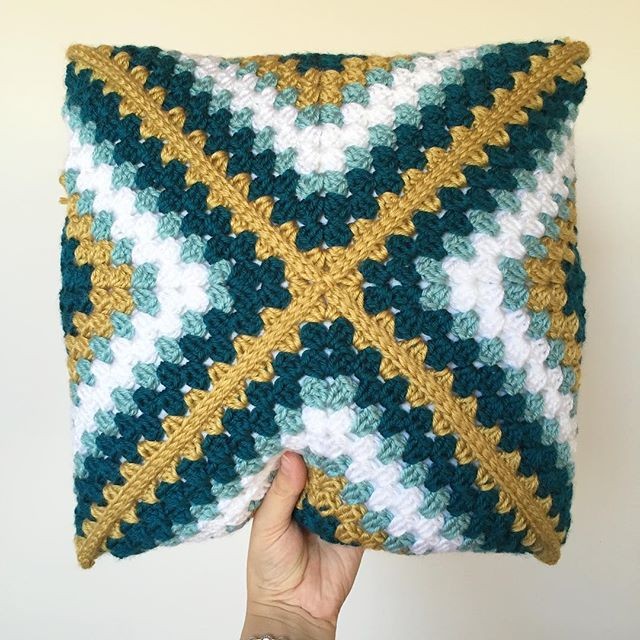 Als meine jüngere Schwester nach erfolgreich abgeschlossenem Studium und einigen Praktikas ihren ersten Job angetreten hat, wollte ich ihr ein kleines Geschenk dafür machen. Da ich eh immer für Kissenüberzüge zu haben bin und mal eine Anleitung von B.hooked Crochet ausprobieren wollte kam mir ihr 'Retro Granny Square Pillow' gerade recht. Meine Schwester steht auf Retro und mit den ausgewählten Farben wusste ich, würde ich ins Schwarze treffen. 
// After some internships my sister finally got her first job. I wanted to give her something for this big milestone and decided to crochet her a pillow. Mostly because I think you can't have enough pillows and because I wanted to try a pattern from B.hooked Crochet for some time now. My sister loves all things retro and so I decided on the 'Retro Granny Square Pillow'. And I knew she would love the colors I have chosen. 
Information
Benutztes Garn: je 100 gr von RedHeart Soft in 09114 Honig / 0001 Weiß / 0008 Eisblau & 0009 Türkis
Häkelnadel: 5,00 mm
Anleitung: B.hooked Crochet in Englisch (kostenlos & auf Ravelry zu finden)
Sonstiges: 
Ich habe ein 40 x 40 Kissen Inlett benutzt.
Die Wolle habe ich über handarbeitswaren.de bestellt (man kann RedHeart Wolle wohl auch in Rossmanns finden, ich hatte bisher jedoch kein Glück)
//
Yarn: RedHeart Soft one 100gr ball per color: 9114 Honey / 0001 White / 0008 Ice Blue / 0009 Turquoise 
Hook: 5.0 mm (6/H)
Pattern: B.hooked Crochet "Retro Granny Square Pillow"
I used a 40 x 40 cm pillow ticking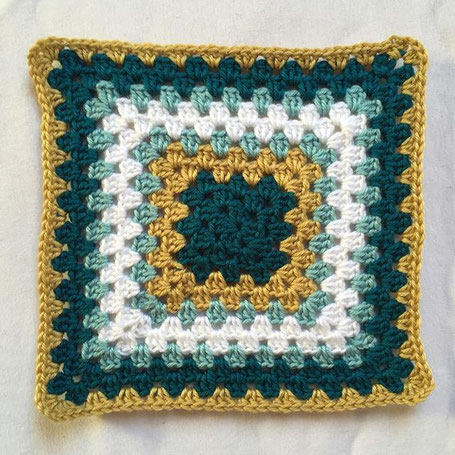 Wer kein Englisch spricht findet in Brittanys Anleitung auch ein Häkel-Diagramm, da das Muster jedoch eh aus einzelnen einfachen Granny Squares besteht, und man dazu einige deutsche Anleitungen findet, ist das sicher zu meistern. 
Ich wünsch euch viel Spaß beim häkeln, Heike :]
// Brittanys instructions are easy to follow and very detailed. Beside the video you can find a crochet chart if you are an advanced crocheter. 
Have fun with your hook, Heike :]